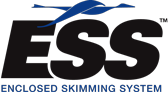 The ESS™ Enclosed Skimming System is a complete oil removal solution, comprised of a Model 6V oil skimmer, built-in oil/water decanter, and motor controller. The skimmer and decanter are housed inside an enclosure that is constructed of carbon steel, stainless steel, aluminum, or fiberglass. The enclosure is completely sealed and gasketed to contain Volatile Organic Compounds (VOCs) from escaping into the environment, and to protect the skimming components from wind or weather. Enclosing the skimmer protects it from the elements indoors or out, keeps workers safe, prevents tampering, and addresses aesthetic and environmental concerns.
Easy Installation & Maintenance, Customized for Your Application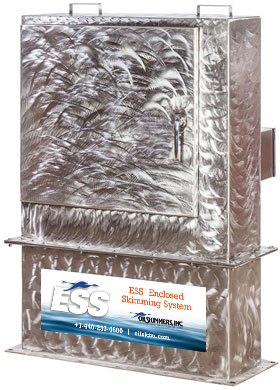 The ESS comes completely assembled and ready to install. The unit can be made to fit any opening, including manways on top of tanks. The ESS features a hinged, lockable access panel. As an option, the access panel may include an observation window for clear viewing of the oil skimmer.
Heat and Winterization
The ESS is ideal for cold weather climates, and when winterized, will continue to skim oil in temperatures as low as -40˚F.
Motor and Explosion Proof Options
Various motors are available to power the ESS, including standard, pneumatic or hydraulic motors. For applications where explosion proof equipment is required, the ESS can be equipped to meet specifications in Class I, Division I locations.
---
Features and Benefits
Completely sealed and gasketed to contain VOCs
Skimmer protected from harsh conditions, indoors or out
Protected from tampering
Hinged, lockable panel for easy access and maintenance
Made to any height, specific to your application
Easily installed atop tanks and manways with customized mounting flange
Built-in decanter ensures least possible percentage of water in recovered oil
Continuous oil removal at temperatures as low as -40˚ with winterization
Enclosure keeps workers safe and is aesthetically appealing
Arrives completely assembled and easy to install
Enclosure can be construction of carbon steel, stainless steel, aluminum or fiberglass
Available with explosion proof electrical components
---
ESS™ Photo Gallery