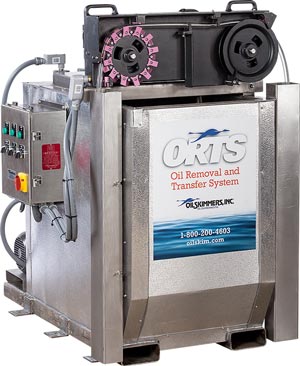 The ORTS® from Oil Skimmers, Inc. serves all the functions of a complete oil removal system, all on one skid. A collection of strategically selected and organized components, the ORTS can be easily customized for your application. With its rugged construction, wear-resistant materials, and gearing engineered to require minimal power and maintenance, the Oil Skimmers Inc. Model 6V tube-type skimmer is the cornerstone on which all the ORTS components rely.
The ORTS is applied in a variety of industries from rail yards to steel mills, positioned over ponds, pits, and sumps to allow the free-floating collector tube to continuously pick up oil as it easily snakes over and around any floating debris.
The ORTS comes pre-wired and ready to go with a controller to power to the 6V skimmer. The controller can also be used to house components for heat, timers, tank level switches, pumps and more.
This unique system includes:
Model 6V Oil Skimmer with Skimmer Mount
Free-Floating Collector Tube with Tube Guards
Oil Storage Tank with Built-In Decanter
Oil Transfer Pump
Controller
ORTS® - Oil Removal and Transfer System
Options Include:
Weatherization (Heat Tracing and Insulation)
Tank Level Switch
Indicator/Alarm Lights
Cantilever Skimmer Mount
and More!
Where there's oil to be removed, the ORTS® provides the ultimate, all-in-one solution with minimal installation time or cost.