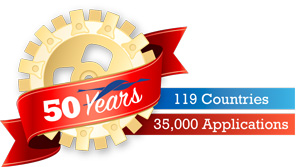 We custom engineer solutions to separate and remove oil from process water and wastewater.
For 50 years, Oil Skimmers, Inc., has designed, engineered – and solved oil-on-water issues in over 35,000 applications. This breadth of experience has made us the world leader in providing customized oil separation and recovery solutions for even the most diverse and demanding applications. From the basic to the complex, we have developed complete waste oil recovery solutions for companies both large and small that are efficient, low maintenance and effective.
Customizable Options
Oil Skimmers, Inc. offers many pre-engineered oil removal systems, made to service a wide variety of applications. From Frame Mounted Oil Removal Systems to ORTS® Mobile Skim Stations, we may have just the right options for your application. However, your application may call for customization of an existing system, or a completely new solution designed and engineered just for your application. From concept drawings, to 3D renderings, to final production, our engineering team will design and develop the ideal oil removal system for your application.
Contact us, or find your local Oil Skimmers, Inc. Representative for assistance and consultation regarding your oil/water applications.
---
Custom Engineered Solutions Gallery