The CoolSkim™ Oil Water Separator efficiently and effectively removes tramp oil from coolant systems to extend the life of coolants and eliminate bacteria growth in the coolant sump.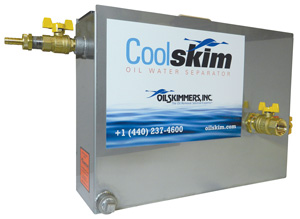 CoolSkim uses a floating weir skimmer with a pump to bring a continual flow of liquid from the coolant sump to the separator, where the solution flows through the coalescer pack and oil separates and rises to the surface, forming two distinct layers. The separated oil is channeled to a collection vessel, and clean coolant is returned to the coolant system.
Coolant Management System
Extend the life of coolants to avoid costly coolant replacement and spent coolant disposal charges
Extend the life of machine tools
Promote employee safety
Eliminate bacteria growth and foul odors
The CoolSkim™ Oil Water Separator is comprised of: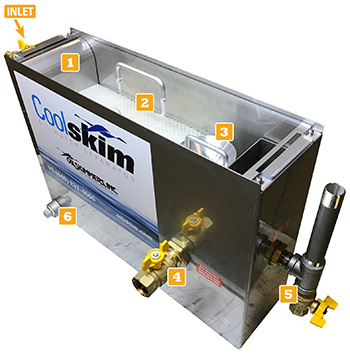 1. Inflow Guide
As oil laden coolant enters the CoolSkim, the Inflow Guide directs the flow downward to guide the solution through the coalescing media.
2. Coalescing Pack
The Coalescing Pack encourages oil separation by allowing smaller oil droplets to combine into larger droplets, which forces them to rise to the surface of the coolant. The pack is removable for maintenance and easy cleaning.
3. Adjustable Oil Discharge Weir
To accommodate oils of various viscosities, and to allow for continuous oil removal, the CoolSkim features an adjustable oil overflow weir. For maximum efficiency in your specific application, the height of the weir can be adjusted to take a larger or smaller cut of the surface.
4. Oil Discharge Port
To manually discharge recovered oil, simply open the valve of the discharge port to allow oil to gravity drain to a collection vessel. For continuous discharge, the valve remains open at all times.
5. Clean Coolant Discharge
Oil-free coolant is gravity drained or pumped back to the coolant sump through this port.
6. Cleanout Access
To prevent build up of solids, fines, or chips in the separator, the CoolSkim features a cleanout access port. This port can be used to drain the separator before maintenance or cleaning.
The use of the CoolSkim to remove tramp oils is beneficial in every phase of coolant use, treatment, and disposal. The CoolSkim is effective for all size reservoirs and has demonstrated that it can extend the life of coolants and machine tools.