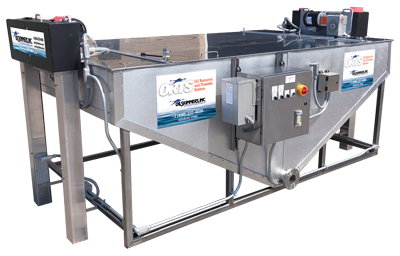 When a current customer of Oil Skimmers, Inc., that manufactures carbon and alloy steel bar, rod and wire products installed a new scale pit, it came with new oil removal challenges. During steel production, scale pits collect the loosened scale that flakes off the surface of the steel along with cooling water, lubricating oils and hydraulic oils used in production. The result is a water/oil/scale mixture in the pits. The water is meant to be recirculated continuously, so it must be free from oil and scale before being fed back into production. Oil removal from scale pits requires oil skimming equipment that is efficient and durable to work continuously and effectively in the harsh environment of a steel mill.
Operational Considerations
The steel mill engaged an engineering firm to design a new type of scale pit at their facility. The engineering firm was also a long-term customer and fan of Oil Skimmers, Inc., having specified their equipment in other process water, wastewater and stormwater applications. With first-hand knowledge that Oil Skimmers, Inc. solutions are proven and effective in other projects, the firm specified Oil Skimmers, Inc. equipment once again to be the oil removal solutions provider in their new scale pit design.
"For one thing, we knew their skimmers worked well, but beyond that, the Oil Skimmers, Inc. team has so much experience and applications knowledge in such a wide spectrum of industries that we wanted to consult with them to determine how to best apply their solutions in our unique design," said a representative of the engineering firm. "Oil Skimmers, Inc. is itself a design and engineering driven firm, so we knew we could count on them to get us not just what they had, but what we needed, even if they had to customize or create a new design for us."
Plan Revisions
Oil Skimmers, Inc. carefully reviewed the details of the application, the specifications of the site, as well as the oil removal equipment originally proposed by the engineering firm. The design was sound. It consisted of multiple Extended Reach Skimming Systems from Oil Skimmers, Inc., each with an integrated 500-gallon oil storage tank, and a Model 6V Brill® tube type oil skimmer mounted on a 24-foot boom that is able to swing out over the scale pits.
"They were singing our tune," said David Cehlar, the Oil Skimmers, Inc. Regional Manager. "Our Model 6V Extended Reach Skimming System is a rugged and capable solution, able to reach out and serve multiple scale pits while skimming 24/7, as well as hold and pump the oil it skims."
But there was a unique opportunity at this particular customer's site. They were building this new scale pit from scratch, not just adding equipment to an existing pit.
"When we realized the customer had not yet broken ground on the new scale pit, we introduced the option of customizing an oil removal solution for them that would be even more of a perfect fit than our standard equipment," added Cehlar.
Working closely with the steel mill's engineers that designed the new scale pit, the Oil Skimmers, Inc. team identified an opportunity to provide a custom-engineered oil removal solution that was more effective versus the standard equipment originally specified. By working together with the engineering firm and the customer, the professionals from Oil Skimmers, Inc., presented fully-rendered concepts and drawings that represented a unique, custom-engineered oil removal system designed to address perfectly the customer's specific requirements in this new construction project.
An Effective Solution
The Oil Skimmers, Inc. solution consisted of two large, custom-designed Oil Removal and Transfer Systems (ORTS). Each ORTS supported two Model 6V Brill Tube Type Oil Skimmers, one skimmer for each of the four cells of the scale pit. Oil recovered by the Free-Floating Collector Tube™ on each oil skimmer is dropped directly into the system's collection tank. The ORTS' collection tanks were designed with proprietary features to keep heavy oil flowing easily, eliminating the potential for the mill's thick oil to clog drain lines. The tanks were also heat-traced and insulated to assure continuous operation even in the coldest winter months.
"This system was conceived of entirely for this project," said Cehlar. "We have skimmers on scale pits at steel mills around the world, but this was a unique application and we designed unique equipment for it. One of our strengths at Oil Skimmers, Inc. is our team's ability to dissect a customer's specific problem and find the best solution whether it involves using our standard equipment or a customized design or some combination of both. Our professionals have the ability, knowledge and tools to create ideal solutions for the customer — and the ability to turn good ideas into great hardware."
A Winning Team
When suppliers, consultants and customers can truly work together in a cooperative manner, the team can stay focused on the ultimate goal. In most cases, this results in a better solution, drawing from the expertise and experience of all the parties involved. By providing a quality product that delivers consistent results, Oil Skimmers, Inc., has earned its trusted reputation among both its customers and partner engineering firms.
"The Oil Skimmers, Inc team brings a lot of value added to the projects we involve them with," said the engineering firm's project manager. "They are able to work seamlessly with our team and our client's to get our client's challenges handled quickly, and cost effectively."
We strive to add value in every project, which results in satisfied customers returning for additional applications and engineering firms choosing to bring the Oil Skimmers, Inc., team in on future projects," notes Cehlar.
Customer Satisfaction
At the end of the day, the important question is whether customers are satisfied with the oil removal solutions provided. The custom ORTS units have been in operation at the steel plant for roughly two years. They are working as designed, and the customer is delighted.
"These custom-designed systems have reduced our capital expenditures, our installation costs, our power bills and our waste oil maintenance expenses," says the steel mill's Plant Manager. "By consolidating what we thought were several separate skimming applications into two central systems, we're able to easily serve all the sections of our new scale pit, keeping them free from oil. Good solutions like this, that eliminate challenges and frequent maintenance, keep us focused on our mission of running an efficient operation and milling steel."
Oil Skimmers, Inc. has been providing oil removal solutions to a variety of industries around the world for over 50 years. They continue to grow their capabilities through innovation, new product development and engineering capabilities to serve the unique challenges that each oily water application presents. For more information about oil skimmers, fully-integrated oil removal systems, oil water separators and the custom-engineering capabilities of Oil Skimmers, Inc. visit www.oilskim.com or call +1 (440) 237-4600 to speak to one of their applications specialists.
---