3F Weir Oil Skimmers Resolve Spills, Help Improve Plant Efficiency and Protect the Environment
Practical and Efficient Skimming with 3F Series Floating Weirs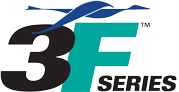 The Oil Skimmers, Inc. line of 3F floating weir skimmers is easily deployable and well-suited for a wide range of oil removal jobs.
3F Series weirs work in sumps, above ground storage tanks, parts washing tanks, equalization tanks, oil/water separators, and on settling and leachate ponds, lagoons or open water where selective adhesion skimming is not applicable and a floating oil skimmer must be used.
Built of long-lasting 304 or 316 stainless steel, 3F units are lightweight and compact, yet rugged and able to deliver dependable skimming results month after month, year after year.
3F Series skimmers share several advantages with Oil Skimmers, Inc. proven tube-type skimmers, including continuous operation and ability to adjust to fluctuations in liquid level. Also, similar to our tube-type skimmers, 3F weir maintenance downtime is low as there are few moving parts requiring regular service.
If you need to remove large quantities of oil in a limited amount of time, and accomplish that removal at high rates, 3F Series Floating Weir skimmers are the solution. These skimmers can be set up easily by one person - a distinct advantage when fast spill response is required, or if a sudden increase in capacity occurs.
---
3F 360-Degree Floating Oil Skimmer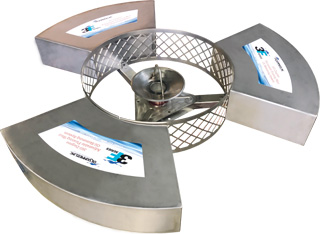 ---
The 3F 360 floating weir skimmer features 3 floats and a central intake weir capable of skimming oil from all directions (360 degrees). The center weir can be adjusted to take more or less of a cut of the oil layer on the water's surface. Ideal for spill clean up, or as the first stage of oil removal prior to separation or further wastewater treatment. A mesh screen surrounds the center weir to prevent intake of debris and clogging of the skimmer.
Models and Oil Recovery rates
3F360-1: 27 gallons/minute
3F360-1.5: 35 gallons/minute
3F360-2: 55 gallons/minute
3F360-3:

150 gallons/minute

3F360-4: 320 gallons/minute
3F Flow Control Floating Oil Skimmer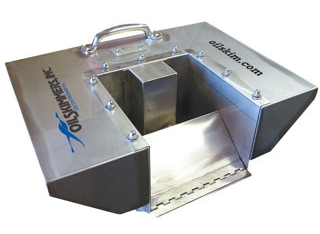 ---
3F Flow Control weir skimmers are easily deployable and well-suited for a wide range of oil removal jobs. The design makes possible skimming high volumes of oil, and the weir self-adjusts based on flow rate, or can be adjusted by changing pump pressure. Easily set up by one person for fast spill response, or sudden increase in capacity. Like the 3F 360-Degree, the 3F Flow Control also features 360˚ attraction of oil floating on the surface of the water.
Models and Oil Recovery rates
3FFC-1: 2-10 gallons/minute
3FFC-1.5: 5-58 gallons/minute
3FFC-2: 5-68 gallons/minute
3FFC-3: 10-300 gallons/minute
3FFC-4: 10-525 gallons/minute
---
A 10-foot elastomer polyurethane hose with vinyl coated spring wire helix and quick disconnect fittings is supplied with 3F Series skimmers for connecting the skimmer to a pump.
Available options:
Additional lengths of suction hose
Pumps for oil transfer
Swing arm systems
Hose and swing arm floats
3F Series Floating Weir skimmers are now operating in this growing list of applications:
Power generation
Oil refining and transportation
Food harvesting and processing
Duckweed
Emergency spill response
Waste water treatment
Chemical processing
Industrial process water treatment
Storm water treatment
Decorative ponds
Vacuum Trucks