The ORTS® from Oil Skimmers, Inc. is a complete oil removal and transfer system, all on one skid. The system efficiently removes oil from the surface of water, stores the recovered oil, and transfers it to a remote location. The system is available in a wide variety of configurations, and is completely customizable to meet any application requirement.
With its rugged construction, wear-resistant materials, and gearing engineered to require minimal power and maintenance, the Oil Skimmers Inc. ORTS is a versatile, flexible and cost efficient oil removal system.
The ORTS is applied in a variety of industries from rail yards to steel mills, positioned over or near ponds, pits, and sumps to allow the free-floating collector tube to continuously pick up oil as it easily snakes over and around any floating debris.
The ORTS comes pre-wired and ready to go with a controller to power the skimmer, and integrate standard and optional equipment, including pumps, timers, tank level switches, and more. The system can be heated and fully insulated to operate 24/7 in the harshest winter conditions.
Where there's oil to be removed, the ORTS® provides the ultimate, all-in-one solution with minimal installation time or cost.
---
Features and Benefits
Skim, decant, store and transfer oil - all with one system
Built-in Decanter removes any water collected and returns it to the pit, tank or pond
Tank level switch activates pump when tank is full
Tank constructed of carbon steel, stainless steel, aluminum, or plastic
Winterization available, complete with skimmer heat, tank heat tracing and insulation (Steam or electric heat available)
Explosion proof motor and enclosures available
Any type of pump available based on your requirements
Choose from standard configurations, or completely customized per your application
Controller houses components for power, timers, heat, lights, level switches, and more
Closed-loop collector tube floats on water surface
Collector tube performance is unaffected by any floating debris
Tube easily floats up or down to adjust to changing water level
Gyrating action of collector tube breaks up oil crusts
Virtually maintenance-free operation
Unique anti-clogging design
Cast metal skimmer housing and structural members
High performance, quiet-running motor
Can operate unattended 24/7
Up to 30-year operating life
---
Typical Applications
The ORTS is used in a variety of applications around the world. A sampling includes:
Steel Manufacturing
Wastewater Treatment
Railroad
Fuel Distribution
Power Generation
Heavy Equipment Wash Base
Any other application where waste oil meets water
---
ORTS CONFIGURATIONS
Standard
Standard ORTS configurations feature an oil collection tank, with built-in decanter. The oil skimmer is mounted directly above the oil/water decanter portion of the tank. The unit can be placed at the edge of pits, walkways or platforms so the skimmer's tube drops straight down to float of the surface of the contaminated water.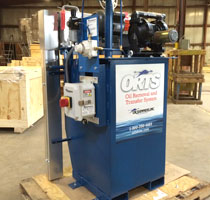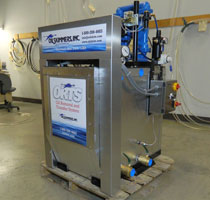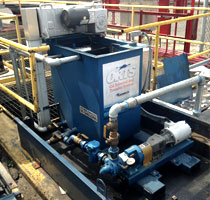 ---
Extended Reach
The Extended Reach ORTS features a 6 or 8 foot cantilever mount, or 12, 18, or 24-foot balanced boom mount for applications where the skimmer needs to be extended to skim oil from ponds, pits, or reach out over guard rails. The tank is sized specific to your application. For applications where a larger storage tank is required, and skimmer reach up to 18 feet is needed, the ORTS Extended Reach features a cantilever or balanced boom mounted to a 500-2000 gallon tank.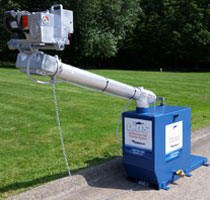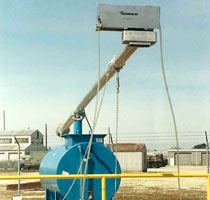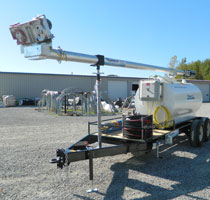 ---
Mobility
ORTS systems can be mobile. Some systems can be moved by forklift or pallet jack. Other ORTS systems tank can be mounted to a trailer for hauling from one location to another. Contact us to discuss all the options.
---
Tank Size and Skimmer Reach Configuration Chart