Reasons Why Choosing the Right Oil Water Separation System is Important:
Read on to see how oil removal through separation and skimming can be your competitive advantage, and dive into the top five business benefits of removing oil from water.
Significantly reduce third-party disposal fees
Avoid oily wastewater discharge fines and surcharges
Prevent clogging resulting from heavy oil surges or re-solidifying thick oils
Increase operational capacity to keep up with demand
Why is Removing Oil from Water Important?
In just about every industrial process on earth, whether it's making steel or cosmetics, food processing, mining, railroads, or construction, water plays an important part for several global manufacturing operations. For over 50 years, Oil Skimmers, Inc. has been proudly providing simple, effective and cost-savings oil removal solutions that support the reuse of water without the use of chemicals for these industries and more.
Our oil skimmers and oil removal systems can be found in over 38,000 applications, in all industries around the world. We've put our decades of application knowledge into the design and development of a line of oil water separators that address the specific inefficiencies found in traditional separators and built them to excel where other separators can fall short.
Download the Oil Water Separator Sourcebook where you can learn about our innovative features such as Active Oil Removal™ that facilitates constant oil removal preventing waste oil from entering your clean water stream.
---
What Our Customers Are Saying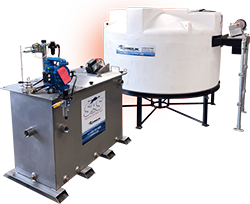 Packaging Manufacturer Finds a New Opportunity to Increase Environmental Responsibility.
A Multi-Stage Oil Water Separation System Solution.
"The team at Oil Skimmers worked with closely with our people and the City and State regulatory agencies to see the plan through all the approval levels internally and externally and offered support at every step along the way."
Read the Full Story ➜
---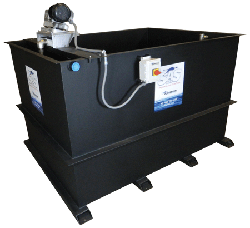 Saving Man Hours in Molding Operation Confronted with Oily Water Challenges
Fully Integrated Oil Water Separator System Contains, Separates & Removes Oil.
"It's really been a lifesaver," concludes the facility manager. "With the oily water problem safely in the background we can finally get back to work and focus on our principal objective of making top of the line agricultural and industrial bins!"
Read the Full Story ➜
---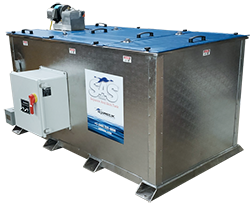 Helping a Food-Grade Transportation Company Tackle Wash Water While Growing Their Business
Custom Oil Water Separator System Addresses Flow Rate Fluctuations, Heavy Oil Surges and Sticky Oils
"It's been a perfect long-term solution," concludes the company's president. "We never would have thought we could get all the features and performance we have received in one system. It's tailor made to handle our tough operating conditions and has the upside capacity to support our upside growth plans."
Read the Full Story ➜
---
Oil Skimmers, Inc. oil water separation systems are designed to be rugged, long lasting and maintenance friendly under the toughest industrial conditions.
Download the Oil Water Separator Sourcebook to learn about oil removal solutions for applications like yours.
Or contact us today for a free assessment from one of our oil removal experts!