Weatherized Oil Skimmer Installation Keeps National Railway Running Even in Harsh Winter Conditions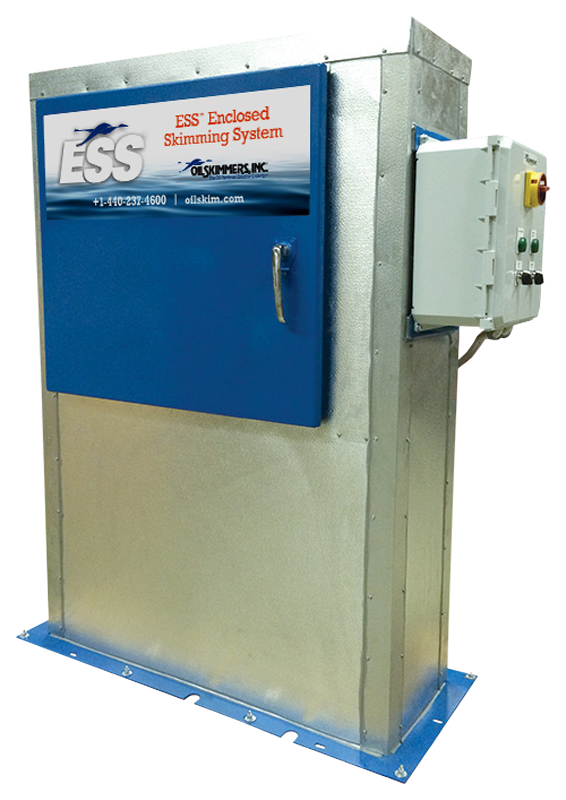 Today, various sources point to railroads as among the world's most environmentally conscious companies in the transportation business. Several important priorities and regulations have helped railroads achieve this status, including the implementation of more fuel-efficient locomotives, better management of resources, the reduction of waste and improvements to wastewater treatment. One North American railway that prides itself on environmental responsibility recently worked with an engineering firm to design a new wastewater treatment facility for one of its refueling stations that would help it maintain superior environmental sustainability.
THE CHALLENGE: On average, it can take up to 5,000 gallons of diesel fuel to re-fuel one locomotive and railroad yards can provide re-fueling services to several locomotives per day. When locomotives aren't in motion, like when they stop to get fuel, they commonly leak oil. Without proper collection systems in place, spilled fuel and leaking oil can quickly become an issue for railroads – especially from an environmental standpoint.
To minimize the amount of spilled fuel and leaked oil that collects in a rail yard, railroad operators often use various water transfer systems to direct the fuel and oil into a collection pit. However, once collected, operators still need to remove the oil from the wastewater to meet municipality requirements that wastewater be virtually free of contaminants. Additionally, the U.S. Environmental Protection Agency and the Canadian Environmental Protection Agency have regulations aimed at preventing the contamination of water and soil during fueling. To better meet associated compliance regulations, a North American railway engaged an engineering firm to create a custom wastewater treatment facility for its British Columbia location.
THE SOLUTION: Specific to the railway's need for oil separation and removal, the engineering firm specified both a corrugated plate oil/water separator to separate oil from the wastewater and a tube-type oil skimmer to remove it. Because of the harsh environmental conditions in British Columbia, the engineering firm needed an oil-removal solution that was heated, insulated and effective in temperatures as low as -40 degrees Fahrenheit. The solution? The ESS® (Enclosed Skimming System) from Oil Skimmers, Inc.
Fully enclosed and vapor sealed, the ESS Enclosed Skimming System efficiently and effectively removes oil from wastewater while preventing any volatile organic compounds (VOCs) from escaping. The ESS touts a specially designed, proprietary oil collector tube that skims the wastewater surface. Oil adheres to the outside of the tube and is drawn across the surface of the water, into the oil skimmer and through ceramic scrapers that remove the oil. The tube returns to the water surface to collect more oil, while the recovered oil flows into a collection container.
Due to its design and construction, the floating, closed-loop tube moves easily around any debris and doesn't clog, offering 24/7 operation with little to no maintenance needed. The unit also features a built-in decanter, which provides virtually water-free oil skimming.
With the Enclosed Skimming System, the oil skimmer is completely enclosed, but easily accessible for inspection and maintenance through an inspection window. Additionally, the construction of the railway's wastewater treatment system also included access to the skimmer through a man door opening, per special request. The skimming system was customized even further with built-in enhancements such as insulation, a heating unit and a thermostat – all of which were necessary according to outlined customer parameters.
THE RESULT: An enclosed, insulated and heated oil skimming system was just what the railway company needed to keep its refueling station operational, even during cold winter months. The system's rugged design and efficient and effective oil removal optimized the performance of the wastewater treatment facility's oil/water separator by removing oil at the time of initial separation. Additionally, the skimmer reduces clogging of any filtration equipment and helps ensure minimal operational downtime and maintenance needs. Together, the oil/water separator and the ESS Enclosed Skimming System were the perfect combination – enabling the railway company to meet both local and national wastewater regulations.
"The fully automatic ESS offers vapor-sealed, durable construction and few moving parts, which enables continuous operation and minimal maintenance in even the harshest conditions," notes Ken Gray, western region sales manager for Oil Skimmers, Inc. "For this customer, our ability to provide a custom skimming solution for a very demanding application was pivotal to the development of a successful wastewater treatment system."
For 50 years, Oil Skimmers, Inc., has provided oil skimming solutions for more than 25,000 applications. This breadth of experience has made us the leader in designing and delivering oil removal solutions for even the most diverse and demanding applications. And, our oil skimming solutions can be custom engineered to meet your facility's needs. From the basic to the complex, we have developed complete waste oil recovery solutions for facilities both large and small that are easy, efficient, maintenance-free and effective. With Oil Skimmers, Inc., you are not only guaranteed the very best in oil skimming technology, you are also provided superior customer service. We meet with our customers, visit their facilities, and we make it our mission to help solve their issues, address their challenges and devise solutions that will meet their individual needs.
With numerous mounting systems available to ensure easy installation and peak performance, we can specify an oil removal system that is customized specifically to your application needs. Contact Oil Skimmers, Inc. today to determine the oil removal solution that will work best for you.