Oil Skimmers Inc. Helps Improve Quality, Save Money, and Meet Environmental Regulations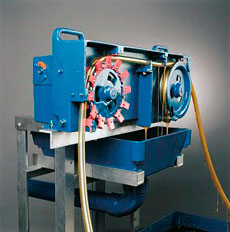 The Oil Skimmers Model 6V and Model 5H oil recovery systems are helping the tanning industry deal with the age-old problems of hide treatment and the new challenge of complying with strict environmental regulations.
PROBLEM: When hides are tanned, they are treated with a substance called chrome liquor. During this tanning process, some animal fats are removed from the hides and released into the chrome liquor. Since chrome is expensive, tanners collect used chrome liquor and remove as much grease as possible so that the chrome liquor can be reused.
Another problem inherent in the tanning process is that the animal fats and greases released from hides leave a dirty "scud" film on the tanned hides that can adversely affect the final leather finish. Also, these waste products can create expensive compliance problems with waste water effluent. The ideal solution — an uncomplicated, maintenance free system that will continually remove the fat and grease waste products during the tanning process and put it into a container.
SOLUTION: The Oil Skimmer 6V and 5H oil recovery systems collect floating waste fats and greases, efficiently, dependably and without supervision. Mounted on the re-circulating "heat up" tank for each rotating tanning unit , the Oil Skimmer 6V unit and the smaller 5H model collect floating waste by means of a collector tube that attracts oils and fats but not water. The oil-laden tube is drawn through scrapers that remove the wastes and the cleaned tube is returned to the water surface. The recovered fats and greases are discharged into a drum.
THE BENEFITS: The Oil Skimmers Model 6V and 5H oil recovery systems remove animal fats and greases from the tanning bath, producing a cleaner, scud-free surface that yields a better finish on the ultimate leather product and extending the total usable life of chrome liquor. The significantly cleaner waste water effluent facilitates compliance with stringent environmental regulations.
Oil Skimmers, Inc. is based in Cleveland, OH, and has thousands of its oil recovery systems in operation throughout the world in a number of industries.