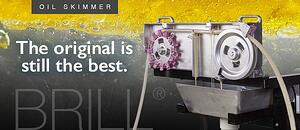 For 50 years, Oil Skimmers, Inc. has designed and developed oil skimmers, oil removal systems, and custom engineered solutions for over 35,000 applications in all industries, in 119 countries around the world.
Our company's founder invented the tube type oil skimmer to ensure efficient, effective oil removal in any application, small or large. Five decades later, we offer a full line of industrial oil removal equipment as well as custom engineering capabilities to meet every oil removal need.
The original Brill tube type oil skimmer remains a very important and versatile element of our product line, and is still one of the best methods available to remove oil from industrial process water and wastewater. Its design, rugged construction, durability, versatility, efficiency, and effectiveness is unsurpassed.
---
Why the Tube?
The collector tube on Brill tube skimmers is made from our unique formula which creates a tube that loves oil. It is designed to withstand the most abusive industrial environments involving changes in shape, movement, temperature, and chemical interaction. The tube floats on the surface of process water, wastewater, or coolant, and efficiently removes all petroleum-based oils, fats, or greases, as well as animal and vegetable oils.

Benefits of the collector tube:
Efficiently Removes Oil
Oil Sticks to the Tube, Water Doesn't
Unaffected by Floating Debris
Adjusts to Fluctuating Water Levels
Learn more about "Why the Tube"
---
A Skimmer for Every Application
Choose the Brill tube skimmer that's perfect for your application:
Model 7V

Variable Speed
1" Tube
Up to 200 gph

Maximized oil pickup capacity
Epoxy coated, extremely durable
Extended 3-year warranty

Model 6V

Std/High Speed
3/4" Tube
Up to 100 gph

Set the bar for quality & efficiency in the industry
Tube operates vertically
Expertly crafted, customizable

Model 5H

Std/High Speed
3/4" Tube
Up to 60 gph

Skim from above ground tanks
Tube operates horizontally
Mount within 3 feet of water level

Model 1H

Standard Speed
1/2" Tube
Up to 2 gph

Compact. Efficient. Effective.
Easily cart mounted or moved from tank to tank
Stainless steel construction
Learn more about Brill®
tube type oil skimmers
by downloading the Info Kit: