Industrial manufacturing, such as steel production, mining, food processing, tank truck wash, power generation, heavy equipment washdown and more use water during the production process, creating wastewater that often contains oil from various sources. Before the water can be reused or discharged to the municipal water treatment plant, the oil must be separated and removed.
Now more than ever, industrial facilities are looking for efficient and effective solutions to separate oil and water in their everyday processes. In addition to protecting the environment, the right oil/water separator design will improve overall operations while reducing costs, avoiding fines and even potentially generating income. If there is oily water at your facility, discover what an industrial oil/water separator is, how it works and why it can be a beneficial and profitable addition to your operations.
What is an Oil/Water Separator?
The American Petroleum Institute (API) oil/water separator was developed by the API and the Rex Chain Belt Company and was first installed in 1933 at the Atlantic Refining Company in Philadelphia, Pa. Simply stated, an API oil/water separator is a device designed to separate oil and suspended solids from industrial wastewater sources, such as those found in oil refineries, petroleum handling facilities, petrochemical and chemical plants, natural gas processing plants, etc.
Since the inception of the standard API oil/water separator, most refineries throughout the world and numerous companies in various industries – from railroads to steel mills – have installed some type of industrial oil/water separator to aid with wastewater treatment. For industrial facilities or organizations that need to separate oil from wastewater, an industrial oil/water separator system is vital to operational success.
How Does an Oil/Water Separator Work?
Used in some of the most challenging applications worldwide, oil/water separators are flow-through devices designed to separate oils from industrial wastewater, process water and stormwater.
The Science Behind an Industrial Oil/Water Separator System
Under certain conditions, oil will separate from water because of the difference in specific gravity between the two fluids. Stoke's Law explains the rate at which oil is separated from a lighter liquid, and this formula helps determine how fast an oil droplet will rise or settle, based on factors including the:
density and size of the oil droplet.
distance the object must travel.
size of the collection tank.
flow rate.
An oil/water separator is designed to consider these factors and subsequently assists in creating the ideal conditions needed for oil to separate from water. There are two primary types of oil/water separators: gravity separators, like API oil/water separators, and coalescing separators.
Types of Oil/Water Separators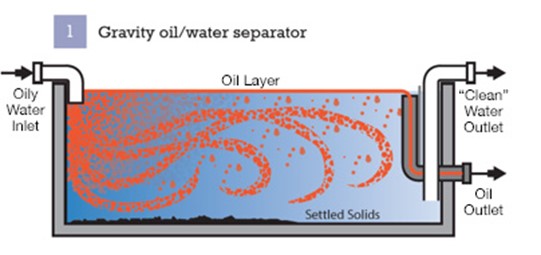 1. Gravity Oil/Water Separators or API Separators
This type of industrial oil/water separator relies on the difference between the gravity of water and the specific gravities of oils, operating as follows:
Oily water enters the inlet of the separator.
Water turbulence is reduced when it meets a baffle and most solids settle to the bottom of the separator.
As wastewater flows through the oil/water separator, oil droplets float to the top of the water but are prevented from exiting the separator by a second baffle; any remaining solids settle.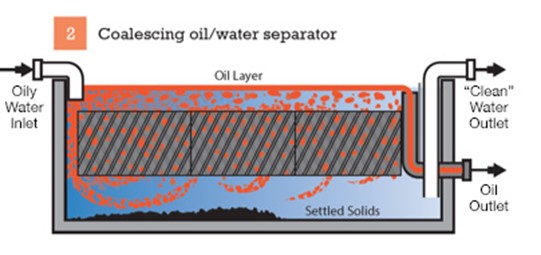 2. Coalescing Oil/Water Separators
With coalescing separators, the general flow of oil and water through the separator is similar to a gravity separator. However, in a coalescing separator, oil and water also flow through oleophilic media. This extra step allows the oil droplets to bind together on the surface of the media. By coalescing or binding together, the oil droplets become larger and more buoyant, thus rising to the surface more quickly and further enhancing separation.
What are the Benefits of an Oil/Water Separator?
With a properly-designed oil/water separator in place, facilities with oily process water or wastewater are able to effectively separate oil from water before reusing or discharging clean water to the sewer or back into the environment. With the right separator design, made to accommodate the conditions and of your particular application, you can expect the following benefits:
Improved Oil Removal – When oily water is provided sufficient time and space to effectively separate into two distinct layers, with the oil floating freely on the surface of that water, an oil skimmer can remove the oil with much more ease and efficiency.
Improved Wastewater Treatment – When oil is separated and removed from wastewater prior to chemical treatment or filtration, treatment processes are more effective and filtration equipment lasts longer and performs better.
Environmental Compliance – Oil and water separators lead to cleaner wastewater that meets the requirements of local and federal regulations
Reduced Maintenance – When the right oil/water separator tank is specified and meets the challenges of the application, efficient oil separation and removal is achieved, which means less maintenance is required to keep the separator running, and downstream treatment equipment will perform more effectively.
Potential Revenue Generator – In some cases, reclaimed oil can be sold as a valuable commodity.
Oil Skimmers, Inc. Specializes in Oil/Water Separator Tanks with Active Oil Removal™
Oil Skimmers, Inc. specializes in designing and manufacturing oil removal systems for more than 50 years. Our Separate and Skim (SAS) Tanks are oil/water separators combined with Brill® tube-type oil skimmers. The tube skimmer provides continuous, Active Oil Removal™ to prevent buildup of oil in the separator. Our standard and custom-engineered oil/water separators are designed to be the most effective and efficient industrial oil/water separator systems available today.
As the Oil Removal Solution Experts, we provide a complete line of standard and custom-engineered solutions for any oily water application, small or large. From standard equipment to complete made-to-order systems, our application experts provide the best oil removal solution for the job. Request a quote or free, no-obligation application assessment today.
---