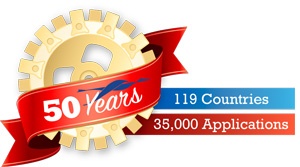 This year marks the 50th anniversary of our company— Oil Skimmers, Inc. For the last five decades, we've provided customers in 119 countries with simple, effective and reliable oil removal solutions.
In over 35,000 applications around the world, our products are used to tackle waste oil challenges. By implementing our skimming systems, oil water separators and oil removal solutions, our customers are able to improve wastewater treatment processes, reduce maintenance costs and lower operational expenses, whilesimultaneously lessening their environmental impact.
But don't take our word for it. Below, we've curated a few of our favorite customer quotes.
What Our Customers Have Said Over the Years

"We would recommend that anyone experiencing oil issues considers an oil skimmer from Oil Skimmers Inc. For a relatively small investment, our operations have been improved dramatically."
- Read the Potato Chip Plant case study.
---
"We've run the oil skimmer eight to 16 hours a day since it was installed in 1995, and we've never had a breakdown."
- Read the Beckwith Machinery case study.
---
"Having the oil skimmer is not only an investment to save money, but it's also an investment to make money."
- Read the Environmental Industry case study.
---
"They [oil skimmers] are relatively maintenance-free, and they are certainly trouble-free. They run 24/7 with no manpower. It would be uneconomical to have a vacuum truck running 24 hours a day. The vacuum truck sucks out a lot of water, and these remove just the oil. So there is a lot less waste."
- Read the Steel Mini-Mill case study.
---
"On an investment of this type, we generally like to see payback in about a year and a half. This system was paid off in nine months."
- Read the AMAC Enterprises Inc. case study.
---
"We're a global manufacturing company. And right now, I'm doing a job in India and I specified the Oil Skimmer equipment because I knew I wanted to get a good product."
- Watch the video Why Skim? Why the Tube? Why Oil Skimmers, Inc.?
---
"There is no need for an attendant. No routine daily checks. As long as the system continues to run and we see that there's no oil on the surface of the water then we're good to go. I just love these things. I really do!"
- Watch the video Why Skim? Why the Tube? Why Oil Skimmers, Inc.?
---
Invest in an Oil Skimming Solution and Improve Your Business
Contact Oil Skimmers, Inc. today, and join our ever-growing base of satisfied customers. Our team of experts will be happy to help you find an optimal solution for all of your oil skimming needs.