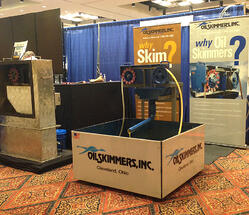 We just got back from the recent Shale Water Expo in Houston. This was the first conference and exhibition in the United States to focus on the natural gas drilling industry's biggest issue: water.
Water management is on everybody's mind these days. Water, the high-cost, high-volume component in hydraulic fracturing, is more than just an operating expense. It has become an item of public concern that's in the news every day. Not surprisingly, one conference panel featured a water engineer, hydrogeologist, recycling advocate, and regulators from the Texas Railroad Commission and the Department of Environmental Quality. Presentations by environmental experts, academics, industry thought leaders and entrepreneurs rounded out this timely summit.

The exhibitors ranged from companies that design and build water management and wastewater treatment systems, and provide ground water testing and biotech services to those that produce water storage, sand storage and other types of containment. We saw demonstrations of specialized administrative solutions, including enterprise software and analytics, as well as field equipment demonstrations.
This is all new and exciting to us at Oil Skimmers, Inc. We are learning much about the industry from our customers, too. The tube-type skimmer solutions we installed recently at a wastewater treatment and disposal site in West Virginia are working 24/7. In addition, the customer is selling the recovered oil for a good return!
The biggest take-away from the Expo was that it really opened our eyes to the intricacies of natural gas extraction. It's a truly amazing industry. If people realized the complexity of the chemical, mechanical and geologic aspects -- and the cost of just getting to that resource, not to mention the cost of extracting it -- they might better grasp how inexpensive it is for every day uses such as cooking and heating.
Many of the people who visited our booth were mesmerized by the sight of our demonstration tube-type oil skimmer and the capabilities video. For some, our display was their first encounter with this oil removal solution. Others were familiar with oil skimmers, but had not considered applications for the gas drilling industry.
It's gratifying to see people so curious about the oil removal solution we have known for decades. The Shale Water Expo caused us to reflect on the many places our skimmers are working day in, day out. As we learn more about the water challenges faced by the gas drilling industry, Oil Skimmers, Inc. looks forward to providing oil removal and recovery solutions to many new customers in the coming decades.
Read our White Paper: Recovering Hydrocarbons from Fracking Wastewater