Our line of Brill® tube type oil skimmers feature our free-floating oil collector tube, made from our unique formula which creates a tube that loves oil. The tube is designed to be able to withstand the most abusive industrial environments involving changes in shape, movement, temperature, and chemical interaction. Upon placing your order, we select, cut, and weld the tube, at the length specific to your application.
To ensure your tube skimmer continues to perform as designed, always order your replacement tubes directly from Oil Skimmers, Inc.
To verify that your collector tube was provided by Oil Skimmers, Inc. look for this imprint:

Make sure to check the condition of your collector tube periodically. Oil Skimmers, Inc. recommends doing so every six months. To order a replacement tube, contact us at 1-800-200-4603, or by email at: info@oilskim.com.
---
How to Order an Oil Skimmer Tube
Step 1: Know Your Tube's Part Number
You may not know the Part Number for your collector tube. Here's a handy chart for your reference. The length of your tube is the distance from end to end if the tube to be cut and laid straight. Use that length to replace "X" in the chart below.

For length in meters, add an "M" to the end of the part number. For example, the part number for a 10-foot standard collector tube is TU10. The part number for a 10-meter standard collector tube is TU10M
---
2: What is Your Skimmer Tube Length?
Several factors determine the proper length of your collector tube, including:
Distance between skimmer and water level
Water level fluctuation
Size of your tank, pit, or skimming area
Call Oil Skimmers, Inc. to determine the proper tube length for your application: 1-440-237-4600
---
Care For Your Skimmer Tube Properly
Remove the collector tube from the carton immediately and hang as shown below.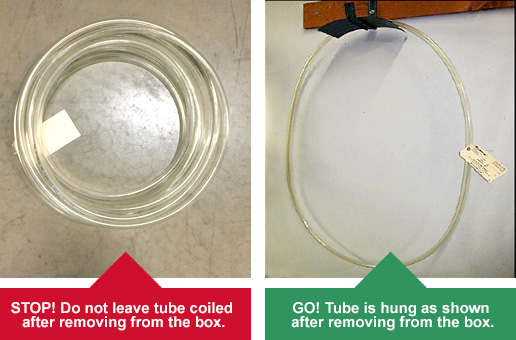 The collector tube must be hung in an untwisted condition for no less than two days before being installed on the skimmer. Failure to hang the collector tube as shown may cause the tube to twist, resulting in operation malfunction or damage to the oil skimmer.
---
Installing or Replacing the Collector Tube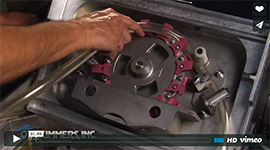 Required tools:
7/16" wrench (or pliers)
Flat head screwdriver
3/16" allen wrench (Model 5H)
5/32" allen wrench (Model 1H)
Watch how the tube is installed:
VIDEO: How to Install or Replace the Collector Tube on the Model 6V
VIDEO: How to Install or Replace the Collector Tube on the Model 5H
VIDEO: How to Install or Replace the Collector Tube on the Model 1H
NOTE: After replacing the collector tube, and prior to powering the skimmer, check the oil level in the skimmer housing. Add 30W, non-detergent oil if needed.
---
Leare more about Brill® oil skimmers with the free-floating collector tube.
Download the Info Kit: