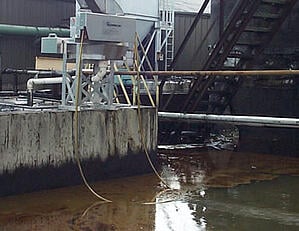 Editor's Note: This post was originally published in 2013 and has been updated for comprehensiveness.
When your company considers investing in an oil skimmer, profitability may be an unlikely motive. But here at Oil Skimmers, more customers are telling us they've boosted their profits and saved money after they implemented our tube skimmers.
Some of these companies are combining Oil Skimmers' highly efficient tube-skimming technology with their own ingenuity to gain additional value from their investment. This includes:
A producer of canned meats that uses a tube skimmer on its treatment lagoon. The company uses the skimmer to remove 10,000 pounds of cooking fat or waste oil per week from the lagoon. The company then sells the oil and fat to a reclaimer at the going market price, which typically generates $2,500 to $5,000 a month. READ MORE HERE...
A steel manufacturer that installed a floating tube system from Oil Skimmers to recover lubrication oil that leaks into the mill's cooling water. This major steel producer is saving approximately $400,000 a year by replacing an inefficient vacuum service. It's also recovering 15,000 gallons of the high-grade lubrication oil. READ MORE HERE...
A grinding operation that used Oil Skimmers' floating tube system to extend the life of its coolant. The company saved $12,000 by using the system to extract waste oil as it passed by in the normal circulation of the coolant. This extended the coolant's lifespan before it was dumped.
These customer success stories demonstrate how top-quality skimmers can positively impact the bottom line. The key, though, to achieving similar results depends on the type of skimmer you select. Various types of oil skimmers are available, including tube skimmers, drum skimmers, belt skimmers and disc skimmers.
Why the Tube-Type Oil Skimmer Works Best
A tube skimmer holds an inherent advantage over all other options because of its flexible design.
For instance, drum and disc type skimmers work by submerging the lower edge of a revolving drum or a disc that collects oil on the water surface. The oil is then carried to a scraper that dispenses the waste into a trough or tank.

This process isn't always efficient because the disc or drum must contact the surface. This means either the water level must be rigidly controlled or the whole machine must be placed on a raft, which can make access to maintenance or repair difficult.

Similarly, belt skimmers have many inherent issues that impact cost, efficiency and effectiveness. For one, the belts only provide a small strip to the surface to which the oil can adhere. The belts also hang below the surface when liquid levels fluctuate. When this happens, the oil that previously settled on the surface is picked up and carried back down into the liquid, defeating the entire skimming purpose.

A major drawback with all of these fixed units—disc, drum and belt skimmers—is the build-up of debris that blocks oil from reaching the collector.

Businesses with oil skimming needs can avoid these issues by using tube skimmers. Tube skimmers continuously remove oil from the water surface by applying a closed-loop tube that attracts the floating oil or grease. Tube skimmers cover more surface area than other skimming technologies because up to 16 feet of tube can be on the surface during the collection process. They can also operate unattended for 24 hours a day, seven days a week.

In addition, the system does not utilize any submerged elements, providing easy access to the parts and reducing maintenance issues. Tube skimmers also easily adjust to fluctuating water levels, unlike fixed drum and disk skimmers.

The result is a cost-effective process that can help companies remain focused on their primary business operations while potentially boosting profits.
Interested in learning more? Download The Challenges of Removing Surface Oil (for free).