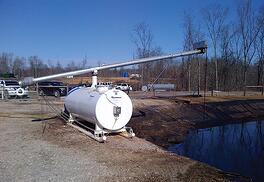 Recently, an increasing number of companies in the oil and gas industry's hydraulic fracturing wastewater disposal business have found employing efficient, low-maintenance oil skimming technology can bring sustained improvements to their bottom lines. We're talking added monthly profits of $3,000 to $18,000. Sound appealing?
Wastewater disposal companies in Texas, West Virginia and Ohio, who have purchased oil skimmers to recover and sell oil that is present in the hydraulic fracturing wastewater being delivered to their facilities, have capitalized on this new revenue within just 2 to 3 months of using the technology. And, that's not all. In addition to generating new revenue streams and delivering a nearly immediate return-on-investment, oil skimmers used in wastewater disposal applications also reduce operational costs and increase operational efficiency.
While treatment of hydraulic fracturing wastewater for reuse and recycling is gaining momentum, wastewater disposal continues to be one of the highest growth areas within the hydraulic fracturing market.
In many U.S. regions, permanent disposal into Class II deep injection wells is the most common method of disposing of wastewater fluids or other substances from shale extraction operations. The Environmental Protection Agency (EPA) estimates that there are approximately 144,000 Class II wells in operation in the U.S. and that roughly 20 percent are disposal wells for brine and other fluids from oil and natural gas production. (http://water.epa.gov/type/groundwater/uic/class2/)
Permanent disposal of hydraulic fracturing wastewater into deep injection wells is often more cost-effective than reuse or recycling options. For example, in Texas, operators estimate it costs as little as 25 cents a barrel to dispose of wastewater using an injection well. (http://fuelfix.com/blog/2013/04/03/bill-would-set-fee-for-oil-field-wastewater-disposal/)
For many permanent disposal facilities operating Class II deep injection wells, hydraulic fracturing wastewater is delivered on a daily basis. Commonly, the wastewater is transferred upon arrival to a holding or gravity separation tank or pit. This is where many disposal facilities are using Model 6V Brill™ oil skimmer to recover oil hydrocarbons found in the water. Once recovered, the oil is as good as money in their pockets as it's then transported for sale and distribution.
Take for example a West Virginia-based company that disposes of hydraulic fracturing wastewater via deep well injection. Through the use of an oil skimmer, in less than two years, the company has enhanced efficiencies, improved operations and increased revenue by approximately $600 per day. Before acquiring the skimming technology, the company attempted to recover oil from the wastewater by means of multiple company resources, including two employees and one vacuum truck.
Those who have garnered superior results, like the company referenced above, have opted for oil skimmers that feature a floating, tube-based construction.
So, what are the primary benefits Oil Skimmers, Inc. skimmers with free-floating collector tubes in this application?
Efficiency, ruggedness and durability
Adjusts to fluctuating water levels and keeps skimming
Low maintenance
Operates 24/7 without supervision
Reduces maintenance and repair costs of other filtration and/or treatment equipment down the line
Unlike other oil skimmers, tube-type skimmers from Oil Skimmers, Inc. are designed to attract floating oil to the outside of the collector tube, which floats on the surface even as the wastewater level fluctuates. As the tube is driven across the surface of the fluid and through a set of scrapers, the oil is removed and gravity-drained into a collection tank.
Because of the amount of brine and debris often present in hydraulic fracturing wastewater, maneuverability is key. Additionally, the design and construction of skimmers from Oil Skimmers, Inc. allow for minimal to no supervision or maintenance and can operate 24 hours a day, 7 days a week.
With a long, trusted history in the oil and gas industry, using oil skimming technology as a solution for recovering oil from hydraulic fracturing wastewater can be a smart, strategic business move with long-term benefits and increased profits.
Download the "Recovering Hydrocarbons from Fracking Wastewater" White Paper to read more.