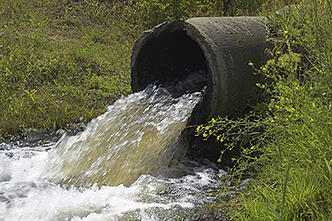 When the sky cries, that's a natural phenomenon. But when Nature's pure water mixes with various types of oil and hydraulic fluids or other contaminants, the result is a man-made problem.
Commonly called stormwater runoff, rainwater will flow wherever it wants once it hits Earth. And this characteristic is what makes water troublesome wherever it encounters oil – in heavy equipment yards, scrap yards, truck and train terminals, oil and gas operations, shipping docks and the like. Water from various types of wash-down operations will behave the same way.
Oil and water don't mix. Any school kid knows that. Yet, separating the two takes some higher level thinking. Capturing the water, then lifting out as much impurity as possible before recycling or returning it to the ground poses challenges. Today's architects, site planners, excavators and engineers design and devise catch basins, pits, sumps and ponds to hold or filter water before it can get into trouble. These are the places where tube skimmers live, working unattended 24/7 removing oil.
Simple, yet rugged, floating tube skimmers offer many advantages:
Impervious to debris. As the tube snakes around the surface, leaves, wood chips, packaging or other floating debris move aside.
Flexible placement. A tube skimmer can be mounted to the side of a tank or suspended on a boom over a sump or pit. In the case of a vertical installation, the appropriately-sized tube descends to pick up oil from whatever height suits the application – 20 feet, 40 feet – even as high as 60 feet or more above the water surface.
No need for supervision. Tube skimmers run automatically.
No submerged mechanical parts that can deteriorate or become clogged.
Recent Installations that Solved Runoff Issues:
A terminal facility in Houston, TX replaced its 25-year-old OSI Model 6V tube skimmer with a brand new 6V. Located near the Houston Ship Channel, the terminal is served by truck, rail and marine bulk. Petroleum oils awaiting shipment are stored in all sizes of tanks on the property. The 6V was installed at a sump that catches rainwater. Skimming is helping the company prevent oily contaminates from reaching the channel waters.
Deep beneath the earth in Montana, a mining company is using an OSI Model 6V to solve their oil/water problems. In the mine, oil from heavy equipment leaks – in the form of lube oils, hydraulic fluids, diesel fuel mixes with wash down water and seepage. The company directs that water into a sump pit. The 6V, which was installed on a cantilever over the pit, works away 24/7 unattended.
An Illinois company that operates metals scrap yards and recycling centers was dealing with rainwater runoff issues. Now, water from gutters and other areas on the property flow to a holding tank onto which an OSI Model 1H skimmer has been mounted.
Helpful Information:
In this age of "green" building, watershed protection and recycling, storm water management is a multidiscipline science and business. The US Environmental Protection Agency has developed the National Storm water Calculator (SWC), a desktop application that estimates the annual amount of rainwater and frequency of runoff from a specific site anywhere in the United States (including Puerto Rico). Estimates are based on local soil conditions, land cover, and historic rainfall records.
http://www2.epa.gov/water-research/national-stormwater-calculator
Storm water management:
http://www.epa.gov/oaintrnt/stormwater/index.htm
To learn more about skimming technology from Oil Skimmers, Inc., download our white paper,
"Skim Oil Early to Improve Your Process and Your Profits".
Click the image below to get started: