A North American railway that prides itself on environmental responsibility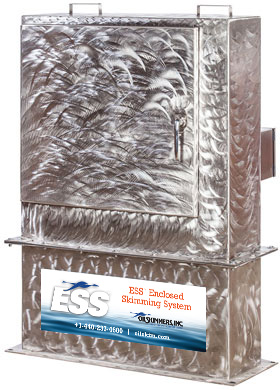 recently worked with an engineering firm to design a new wastewater treatment facility for one of its refueling stations in British Columbia. The design challenge required a careful balance of meeting the railway's commitment to environmental sustainability, while still being able to operate in severe weather conditions – even temperatures as low as -40 degrees Fahrenheit.
A balancing act
Railroad refueling stations often service hundreds of locomotives per day – and it can take 5,000 gallons of diesel fuel to refuel just one locomotive. While preventative and precautionary measures are in place to manage fuel spills, spills do occur. Additionally, when locomotives aren't in motion, like when they stop to get fuel, they commonly leak oil. Because of these factors, having a collection system in place to manage spills is essential.
Without proper collection systems, spilled fuel and leaking oil can quickly become an issue for railroads – especially from an environmental standpoint. For example, the U.S. Environmental Protection Agency and the Canadian Environmental Protection Agency have regulations aimed at preventing the contamination of water and soil during fueling.
With this in mind, the engineering firm knew it needed an effective oil-removal solution that would not only alleviate environmental concerns, but also meet the railway's unique operational needs.
A heated, insulated, weatherproof solution
The solution? An enclosed, heated and insulated tube-type oil skimming system from Oil Skimmers, Inc. specially designed to operate in below-freezing temperatures, 24 hours per day, 7 days per week.
To best meet the railway's needs, the engineering firm specified both a corrugated plate oil/water separator to separate the oil from the wastewater and a tube-type oil skimming system – the Enclosed Skimming System (ESS) from Oil Skimmers, Inc. – to remove it.
Fully enclosed and vapor sealed, the ESS efficiently and effectively removes oil from wastewater via a proprietary oil collector tube that skims oil from the wastewater surface. Oil adheres to the outside of the tube and is drawn across the surface of the water, into the oil skimmer and through ceramic scrapers that remove the oil. The tube returns to the water surface to collect more oil, while the recovered oil flows into a collection container. The skimming system used for this project also features customized enhancements such as insulation, a heating unit and a thermostat – all designed to keep the system operating regardless of weather conditions.
Together, the oil/water separator and the ESS were the perfect combination for the wastewater treatment system – helping the railway achieve operational efficiency for its refueling station without having to compromise on its commitment to environmental sustainability.
To learn more about the results the railway achieved from installing this enclosed tube-type oil skimming system, view the case study.