Oil skimmer reduces cost, increases performance and decreases material waste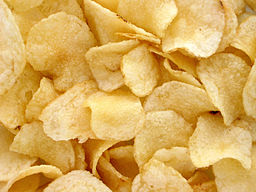 Food manufacturers are tasked with managing oil in the wastewater from their manufacturing processes on an ongoing basis.
Recently, a privately-held snack food manufacturer that produces potato chips established a goal to increase chip production by 20 percent. However, increasing production also meant increasing the amount of cooking oil discharged into the wastewater from washing the fryers used to cook the chips. As one of the largest water consumers within its municipality—discharging an average of 180,000 gallons per day—the potato chip plant needed to cost-effectively and efficiently remove the cooking oil from its wastewater to remain compliant with the municipality's wastewater regulations.
Challenge: The plant's 4-foot diameter wastewater pool is crowded with pipes and other equipment—limiting space for adding any new equipment.
Solution: A custom-engineered oil removal solution that included a tube-type oil skimmer was needed to fit the wastewater pool's tight space.
Results: Oil Skimmers, Inc.'s Model 6V oil skimmer was successfully implemented and effectively removes 2,000 gallons of oil per week from the facility's wastewater pool. That means, each year, more than 104,000 gallons of oil is collected. By installing a tube-type oil skimmer, the potato chip manufacturer is able to skim oil from its wastewater 24 hours per day, seven days per week.
"We would recommend that anyone experiencing oil issues consider an oil skimmer from Oil Skimmers Inc.," the company's wastewater treatment facilitator said. "For a relatively small investment, our operations have been improved dramatically."
Below are a few key areas in which the Model 6V oil skimmer has improved the plant's operations:
Cost savings: The skimmed wastewater now requires less treatment before it enters the municipal system, reducing the amount of energy, labor and chemicals needed to process the effluent. Also, since installing the skimmer, the facility's wastewater pool now produces less sludge—allowing the plant to save on hauling costs for sludge removal since it now uses the service less frequently.


Improved asset performance: The plant's dissolved air floatation system is working more efficiently. "The filter press performance has increased, requiring less operator time cleaning the press," said the company's wastewater treatment facilitator. Additionally, loading on bioreactors where the water is treated has been greatly reduced, further improving efficiency.


Decreased material waste: The manufacturer has found a market for the discarded oil in companies that make bio-fuels, thereby keeping about 8,000 gallons of discarded oil out of landfills each month.
Removing oil from water can be a challenge. Download the white paper, "The Challenges of Removing Surface (Free-Floating) Oil":