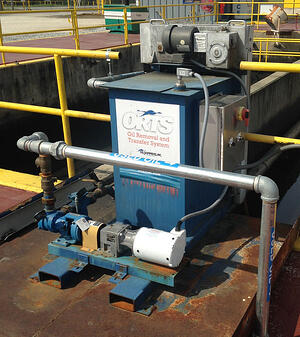 After learning about the benefits of oil skimming and deciding to remove oil from water in your application, you're faced with a decision: which type of skimmer is best for your particular application?
Companies that install an oil skimming solution reap immediate benefits—lowering their ecological footprint, reducing maintenance requirements and an improving their overall wastewater treatment process, all while increasing profits. But in order to maximize these benefits, choosing an appropriate system is key.
Many of our customers are in need of a complete, all-in-one removal solution. Our Oil Removal and Transfer System (ORTS®) combines our class-leading Brill® tube-type oil skimmer with a decanting system, oil storage tank, controller and oil transfer pump, all-in-one reliable and portable unit.
The ORTS is incredibly versatile. We offer winterization options that include heating and insulation, ensuring uninterrupted operation even in harsh winter conditions. Plus, the ORTS can be used with most any type of pump, adapting to your specific requirements.
We offer standard sizes of oil storage tank, or can customize the capacity to meet your requirement. The oil skimmer can be mounted directly to the ORTS tank, or can be cantilevered to reach out, over the water.
Our all-in-one solution is also virtually maintenance free—the system can be run 24/7 without the need for supervision and offers up to 30 years of operating life.
Start Efficiently Removing Oil with an All-in-One System Today
If you've decided to invest in a stand-alone and robust oil removal system that features fast installation at minimal cost, contact our team of experts today and let them help you find an optimal solution for your particular needs.
For a more in-depth look at our ORTS® system and its applications, please watch the video below.