Emission control and waste management among top priorities for railroad industry today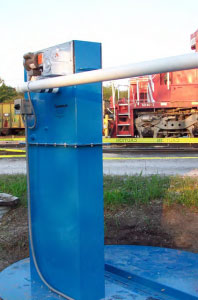 On February 28, 1827, the Baltimore & Ohio Railroad became the first U.S. railway chartered for commercial transport of passengers and freight.
Key facts about the first U.S. railway include:
The Tom Thumb steam engine was designed by Peter Cooper
The first railroad track was only 13 miles long
Charles Carroll, the last surviving signer of the Declaration of Independence, laid the first stone when construction on the track began
(Source: Library of Congress)
Fast-forward 188 years.
Here is a snapshot of what the railroad industry looks like today:
140,000 miles of railroad track
21 regional and 510 local railroads
221,000 jobs
The rail network accounts for approximately 40 percent of U.S. freight moved by ton-miles (the length freight travels).
(Source: U.S. Department of Transportation Federal Railroad Administration)
While railroads have operated successfully for nearly two centuries, the priorities of the railroad industry today look very different than those of 1827. Today, environmental priorities are top-of-mind for railroad companies today. Pressure from government regulations, including emission control and better waste management are ongoing and getting stricter.
But, even more than that, today's railroad companies are driven to go beyond the basic regulation and compliance requirements. One example, CSX's Trees for Tracks program has planted 23,000 trees since the program began. Similarly, Norfolk Southern has completed 65 percent of its Trees and Trains project, a $5.6 million initiative to reforest 10,000 acres with more than 6 million native hardwoods and cottonwoods in the Mississippi delta.
Emission control
Designed to decrease fuel emissions and increase fuel economy, the EPA finalized a 3-part program that will dramatically reduce emissions from diesel locomotives of all types: line-haul, switch, and passenger rail. The standards are based on the application of high-efficiency catalytic after treatment technology for freshly manufactured engines built in 2015 and later.
Locomotive manufactures are doing more than just meeting minimum requirements, though. Locomotive manufacturer Union Pacific's Genset locomotive features smaller diesel engines and generators instead of one large engine. When compared to traditional diesel locomotives, Gensets reduce gas emissions by up to 37 percent and emissions of oxides of nitrogen by 90 percent.
Union Pacific isn't alone in their pursuit for solutions that meet and exceed emission control standards—other manufacturers are also focused on improving technology designed to power trains.
Waste management
Recycling is a key waste management initiative for locomotive manufacturers and railroad yards. In the last three years, CSX has recycled 8.52 million crossties and currently reuses or recycles 95 percent of its crossties with a goal of increasing the rate to 99 percent by 2015. Additionally, Kansas Southern Railway transports used locomotive lubricating oils to a refinery for reclamation and recycles used locomotive and signal batteries, among other recycling initiatives.
Minimizing and managing fuel spills are also top priorities for railways and railroad yards. Typical U.S. railroad yards serve hundreds of locomotives a day, filling each with up to 5,000 gallons of diesel fuel at a time. At most yards, spilled fuel, process run-off water and used oil collect in a catch basin and mix with rainwater and runoff, which can also contain oil waste.
The petroleum must be removed to ensure the wastewater is suitable for discharge into a public sewer system. One way to remove petroleum from the wastewater is via an oil skimmer. Removing as much oil as possible is important to railroad yard management because—in addition to protecting the environment—it keeps other water treatment equipment, such as filtration systems and oil/water separators running smoothly and efficiently.
What will the future look like for the railroad industry? While no one can know for sure, emission control and waste management will likely be top priorities for years to come.
What additional emission control or waste management initiatives does your company practice?


For the Railroad industry, or any industry, download the white paper, "The Challenges of Removing Surface (Free-Floating) Oil" to understand your oil removal options.