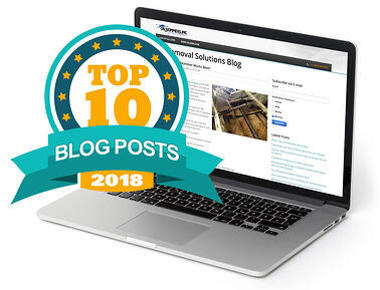 For decades, our oil removal solutions have played an important role in businesses that deal with fat, oil or grease (FOG) in process water, coolant or wastewater at some point in their operations. Oil removal technology can improve your wastewater treatment processes, reduce your ecological footprint and improve the bottom line.
To learn more about how oil skimmers and systems work in a variety of applications and industries (or if you'd just like to catch up on what you've missed), we've curated the 10 most viewed Oil Skimmers, Inc. blog posts of 2018. This list includes the top viewed posts over the past year.
A top indicator of a business's success is profitability, and one of the best ways to increase profits is by lowering expenses. In this blog post, we explain how oil skimming can reduce required maintenance and operational costs and create new revenue streams.
Everyone likes a good video, right? This post features an explanatory video that covers the reasons to skim oil in the first place, the right skimmer to use, and the reasons why Oil Skimmers, Inc. is the right partner to choose for your oil removal solution.
Not all oil skimming solutions are created equal. Even after more than 50 years, no other implementation of the technology can match the performance and reliability of Brill® tube-type oil skimmers. In this post, learn why and more about which model skimmer could be a good fit for your particular application.
So, you've decided to install an oil skimmer. You might be wondering, how long it will take to reap the benefits. Spoiler alert: You don't have to wait long. Key differences you'll notice immediately include less chemicals and equipment needed to treat wastewater, fewer clogged filters and more. Read the full post for all seven changes.
Talking about the benefits of skimming is all well and good, but what about real-world examples? To showcase the potential of our oil skimming solutions, read about how our tube-type skimmers helped two US-based companies lower their operational costs and remove contaminants from their wastewater—enabling them to meet environmental regulations.
Another success story; this post details how a mining company managed to solve its waste oil problem. They were unable to meet local and federal regulations until Oil Skimmers, Inc. provided a custom solution that removed all waste oil and hydraulic fluid from their storage tank within just five hours of the installation.
For a better understanding of how oil skimming fits into the water treatment processes, this infographic demonstrates several key areas where oil skimming can be leveraged. Plus, learn why removing oil early in the process is in your best interest.
There are many ways to lower our ecological footprint—both individually and on a larger scale. One of the easiest ways that businesses with oily water challenges can reduce pollution levels is by introducing oil removal solutions into their daily operations. Read this post to learn more about how waste oil removal can help with crucial environmental concerns.
Tramp oil in your manufacturing process can shorten the life of machining coolant, result in costly equipment malfunctions and affect the quality of finished parts. This blog post lists three ways in which a quality oil skimming solution can improve your manufacturing process.
Due to local regulations, a trucking company with a fleet of 250 tanker trucks was required to remove all of the waste oil left over after cleaning its tanks. The company had an existing oil removal solution, but it wasn't able to remove enough oil. After installing our tube-type oil skimmer, it removed all of the oil and improved the overall efficiency of the pre-existing system.
We hope that these posts helped you learn more about oil skimming and the benefits that this technology could bring you. If you are not already a subscriber, enter your e-mail address in the box in the right column and we'll keep you up-to-date on the latest content from our team of experts. Best of luck to both you and your business in 2019!